Jimmy Levan is a living legend in BMX. With numerous hammers under his belt, company ownership, and a full career as a sponsored rider, Jimmy has done it all and continues to until this day. When Dave Kellman sent us a few photos of Jimmy, we figured it was right time to sit down with him and see what he has going on these days–and it doesn't look like he's slowed a bit.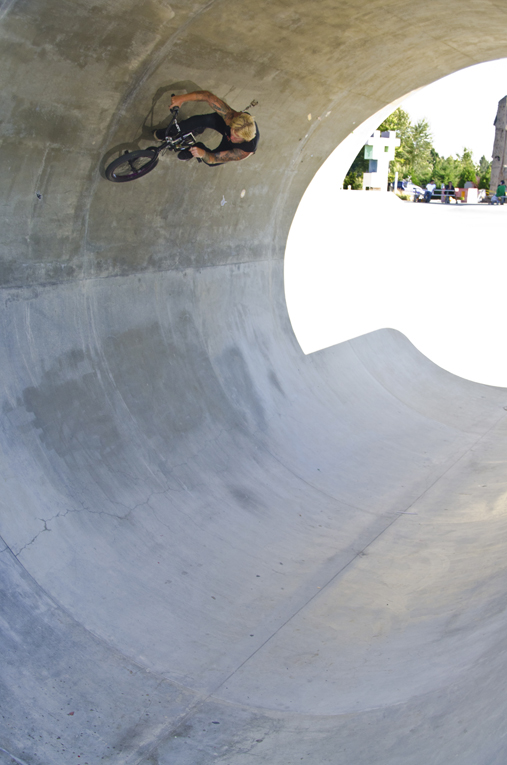 Photo: Dave Kellman
Jimmy, how have you been lately, and what has been occupying your time recently?
Just riding a lot more since this fake ass femur in my left leg is getting better. Stoked to be back at it!
You've made your move through Louisville to Seattle, Where are you calling home now?
I'm in SoCal again, haven't lived here since the mid 90's!
Photo: Dave Kellman
What's going on with Metal lately, any plans on the horizon for the company?
Yeah, it was put on a bit of a hold for a bit after the team/company split up with Sean Burns and the dudes. Different than most company/team splits we are all still good friends so it's just been a time to rebuild. The team now is great and I'm stoked on the frames for 2012! There is also a change in the works that will really set these frames apart, but thats my secret at the moment.
Duffs saw a bit of a shake up this year and not much info was brought to the light about the changes. Are you still a part of the Duffs team?
Ha ha! No shit! At the moment yes, but who knows? They could pull my plug in 15 minutes.
Photo: Kyle Emery Peck
Photos on the Metal Blog and talk around the internet is that you've gotten involved in a new wild TV show. Any light you can shed on that matter?
Well, it's not a new show, but the Fuel TV show Built to Shred has been having a crew of us come and ride in most of the episodes for the upcoming season that starts airing in December. This is a big thanks to my friend Aaron Bostrom who has been a builder on the show for awhile. Jeff, Kevin, Jeremy and the dudes started having Aaron bring us on to ride with them. I think it's a real cool thing for the old skater vs BMX hater bullshit. It's cool to ride this amazing stuff they build for us along with awesome pro skaters. Everyone is slapping fives and stoked on watching each other and hanging out. Maybe some of the haters will see their skater idols sessioning and having fun with us and get over it. Who gives a shit if you are on four wheels or two? If you are doing something gnarly, you are doing something gnarly, no matter which one of the children's toys you are playing on. I was also on an episode of the Playboy TV show called Badass where some friends of mine and myself taught naked Playboy bunnies how to ride BMX bikes! Ha ha! Funny shit. That episode aired a bunch last month.
You shot a wild roof gap earlier this year featured in a Ride UK article, are you still sending wild set ups? What's making you tick on the BMX?
Well, I guess I'm just riding the way I've always liked riding. I've learned a couple new things as of late, but you aren't going to see double tail whips out of this old man… so I guess I'll stick with my style of riding. If my style is referred to as sending wild set ups then yeah, I guess I still am. Ha ha! It's been a blast to be able to ride again, good times!
Any last words?
Well yeah… Awhile back our friend Taj made a mistake on a different website and listed the Metal spade logo as one of the best in BMX, in which I'm grateful for, but he said Roni designed it. I designed the Metal Spade logo. The first one I hand drew, the second one I literally blew up a playing card spade and Xeroxed a skull and cross bone logo and old school pasted it on with an upside down 5 point star over it as well as picking the letter font. It was '98 and I didn't even own a computer much less know how to use one. Roni later did, however, lay it out for me on the computer. I thought the skull and cross bones we used looked shitty so I then paid a tattooist $100.00 to draw the one I still use for it today. I know it sounds whiny to say," NO, IT'S MY DESIGN!" but I can explain why it's so important–for one reason, this logo has been the masthead of my company for almost 14 years. Second reason, it's my only design that not only myself, but many, many friends of mine around the world have tattooed on them. That reason alone makes me stoked as shit on it! Also, thanks, to Odyssey, Dans comp, Duffs, Metal Bikes crew, Mom and all my friends who have been riding, hanging, and just being real with me.
<<入荷商品 | HOME | It cleared up, >>
Comment
Comment Form
Trackback
| HOME |