OWL HUB MK3 REAR 9t  RHD LHD              bk¥23,220
                                 oil¥24,840
解体してみました、玉押しが圧入式で日本製ベアリング、ヤバイほど良く回ります。
そしてこの細かなラチェット、!!!!誤作なく掛かります。音もジージーって感じで性能が凄いです。
シャフトはクロモリで強度もあります!432g
個人的に使いたいリアハブです。
MATERIAL: Full CNC AL 7075-T6 machined body
AXLE: Full CNC machined axle in Ni-CrMo heat treated, Fe-Male axle system
BEARINGS: 2 high quality sealed bearings (6092)
FLANGE DIAMETER: Drive side 54mm, non-drive side 47mm
FLANGE WIDTH: 63mm
DRIVER: 9T, polymer bushing sleeve that prevents the bearing to break
FEATURES: Own design body, cones and axle. 36h and 9t only, available RHD and LHD
Stronger and durable pawls springs then MK2
COLORS: Anodized flat black, flat red, flat orange, flat dark blue, slick oil and polish
WEIGHT: 432gr. / 15.25oz
Owl hub MK3 Front                 bk¥11,772
                           oil¥12,960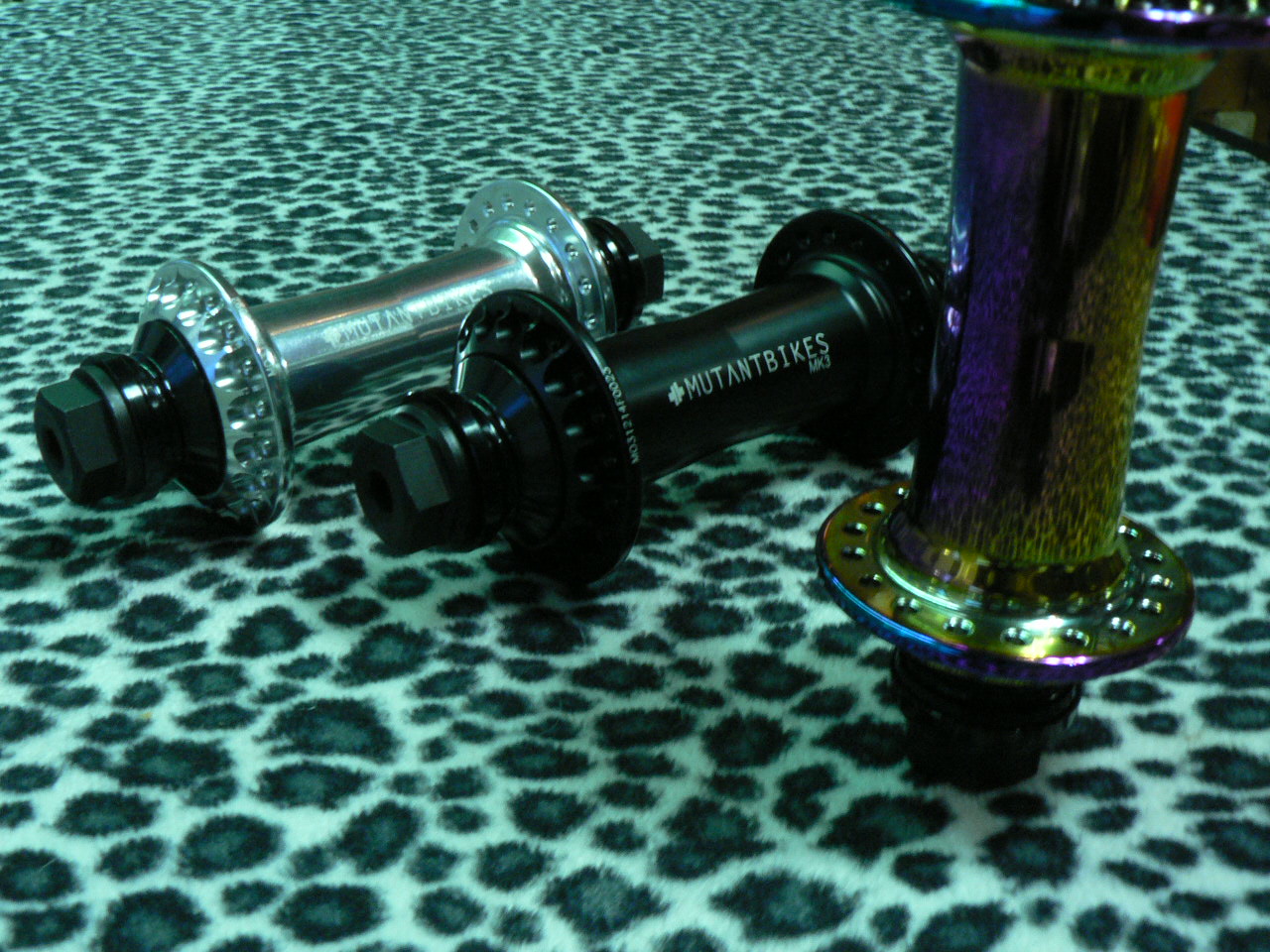 こちらフロントハブも玉押しが圧入式で日本製ベアリング
クロモリシャフトで強度も安心です、
このハブの回転を味わってみて下さい!
MATERIAL: Full CNC AL 7075-T6 machined body
AXLE: Full CNC machined axle in Ni-CrMo heat treated
BEARINGS: 2 high quality sealed bearings (6092)
FLANGE DIAMETER: 47mm
FLANGE WIDTH: 71.45mm
FEATURES: Own design body, cones and axle. 36h only
No more sliding axle system on the Mk3 and is lighter
COLORS: Anodized flat black, flat red, flat orange, flat dark blue, slick oil and polish
WEIGHT: 260grs / 9.17oz
Rio Top Load Stem                         ¥10,422
                                  oil¥11,772
7000番アルミCNC削り出しで軽くて強い、
デザインも最高にカッコイイステムです。
MATERIAL: Aluminum 7075-T6, 100% CNC machined internally and externally
REACH: 52mm
BAR CLAMP AREA: 22.2mm
BOLTS: Heat treated 6mm hollow bolts
GYRO PLATE: Sold separately
COLORS: Anodized flat black, flat red, flat orange, flat dark blue, slick oil and polish
WEIGHT: 284gr. / 10.01oz
Rio Front Load Stem                         ¥10,422
                                   oil¥11,772
強度、軽さ、間違いないベーシックかつスタイリシュな作りです!
MATERIAL: Aluminum 7075-T6, 100% CNC machined internally and externally
REACH: 50mm
BAR CLAMP AREA: 22.2mm
BOLTS: Heat treated 6mm hollow bolts
GYRO PLATE: Sold separately
COLORS: Anodized flat black, flat red, flat orange, flat dark blue, slick oil and polish
WEIGHT: 245gr. / 8.64oz
Caravela Sprocket  25t 27t                  ¥6,912
こちらもCNC削り出しの7000番アルミ熱処理で軽さ、強度、問題ないです。
チェーンラインの事もよく考えて出来ております。
クランクボルト穴も専用に削り出してありますので取り付けの際は一カ所のボルトカットにボルトをセットして下さい!
MATERIAL: Aluminum 7075-T6, CNC machined
THICKNESS: 6.5mm
SIZES: 25T and 27T
FEATURES: Bore hole 23.8mm, supplied with 2 adapters to fit 19mm and 22mm
COLORS: Anodized flat black, flat red, flat orange, flat dark blue, slick oil and polish
WEIGHT: 25T: 58gr. / 2.04oz
27T: 73gr. / 2.57oz
SSC Mk2 Pivotal Post                 ¥4,320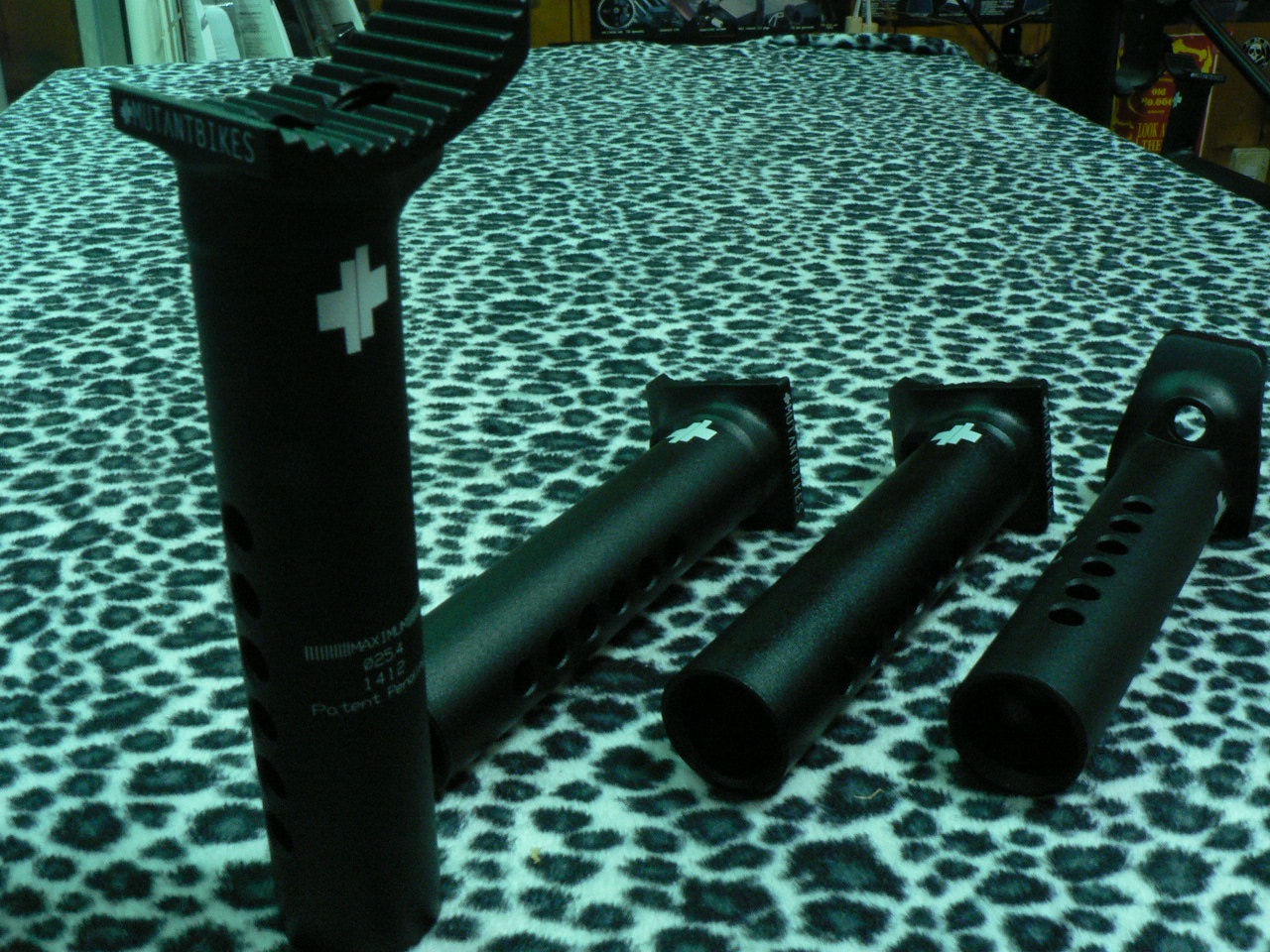 このポストはサイレンサータイプのデザインでmutantフレームのシート固定の穴でもあり
一般フレームにも軽量化ポストとして使える優れもの、
今までフレームに取り付けていたボルトは斜めに入っていましたが、これは地面に対して真っすぐ入る様に作られており、
力の入り方の事をよく考えられたシートポストです。
MATERIAL: Forged 6061-T6 aluminum
LENGHT: 118mm / 4.64″
DIAMETER: 25.4mm
FEATURES: 6 drilled holes for the SSC system*, fit any frame, laser etched Mutantbikes logo.
Works with pivotal seats and stealth pivotal seats.
LENGHT: 118mm / 4.64″
COLORS: Anodized flat black, flat red, flat orange, flat dark blue, slick oil and polish
WEIGHT: 91gr. / 3.20oz
*SSC – Smile Seat Clamp, design clamp system own and developed by Mutantbikes
Peguard Peg                   ¥6,696
このペグ、フロント、リア、のハブ&コグガードすべてに使えます。
アルミとプラスチックでかなり軽い!ハブガードとペグを合わせた重さからするとダントツ軽量化出来ます、〔フロント、リアエンドも守る事が出来ます〕
驚いたのはペグで力が掛かる下部分が楕円に厚みがあり潰れない様になっていました。159g
MATERIAL: CNC Machined Alu 7075-T6
SLEEVE: Nylon.
Rotate 180º grinding surface with 2 bolts
Tight by 2 screws
Sold separately
LENGHT: 110mm / 4.33″
DIAMETER: 37.9mm
SIZE: 14mm axle hole with 10mm / ⅜" converter and spacer to use the pegboard at the front hubs
FEATURES: Developed by Mutantbikes, lazer etched logo.
Hubguard with 10mm thicker to be strong enough for street and park.
Offset peg is thicker on the bottom and thinner on the top, to made it plus stonger.
COLORS: Anodized flat black, flat blue, flat red, flat orange, polish and oil slick
WEIGHT: 159grs / 5.60oz
Lobo Grips                      ¥1,512
素材はクラトンポリマー天然ゴム
長さが165mmと平均的なロンググリップより20mmほど長いのです、
最近のBMXではパースピンなど技が当たり前、...
ハンドル回転後キャッチの際、長いグリップは楽ですよね!
MATERIAL: Made with Kraton
LENGHT: 165mm / 6.50″
DIAMETER: 28.7mm
FEATURES: Designed using a simple ribbed pattern, symmetrical and prepared with a groove to cut the flange with a scissor
COLORS: Black, blue, gum, red, orange and swirl black/yellow
WEIGHT: 129gr / 4,55oz pair w/ bar-ends
What's kraton? Kraton polymers offers many of the properties of natural rubber, such as flexibility, high traction and sealing abilities, but with increased resistance to heat and weathering.
Owl Drive Side Guard                ¥4,536
MATERIAL: Full CNC AL 7075-T6 machined
OUT DIAMETER: 60mm, enough size to protect your hub and spokes
INNER DIAMETER: Adapter for our owl hubs and some other brands hubs
FEATURES: Drive-side guard to fit many hubs w/o having to enlarge your frame, replaces drive-side cone in our owl hub with an adapter, for other brands check the proper #
COLORS: Anodized flat black, flat red, flat orange, flat dark blue and polish
WEIGHT: 45gr. / 1.58oz
#1 Mutantbikes, Éclat or similar size
#2 Proper, Animal, Colony or similar size
#3 Odsy v3, Primo, Cult or similar size
Owl Hub Guard Rear                   ¥3,456
MATERIAL: Full CNC AL 7075-T6 machined
OUT DIAMETER: 74mm, enough size to protect your hub and spokes
INNER DIAMETER: 14mm threadless
FEATURES: Non-drive side hub guard, replaces non-drive side cone in our owl hub, also can fit some other brands hubs that uses same size cone
COLORS: Anodized flat black, flat red, flat orange, flat dark blue and polish
WEIGHT: 80gr. / 2.82oz
Owl Hub Guard Front                 ¥2,376
MATERIAL: Full CNC AL 7075-T6 machined
OUT DIAMETER: 65mm, enough size to protect your hub and spokes
INNER DIAMETER: 15mm threadless
FEATURES: Both sides hub guard, replaces the cone in our owl hub, also can fit some other brands hubs that uses same size cone
COLORS: Anodized flat black, flat red, flat orange, flat dark blue and polish
WEIGHT: 61gr. / 2.15oz
Patch Pivotal Seat                 ¥5,184
MATERIAL: 100% poly propylene cordura topcover
FEATURES: Pivotal system, gordo and obeso versions, patch with Mutantbikes logo
COLORS: Black or camo
WEIGHT: Gordo: 285grs / 10.05oz
Obeso: 318grs / 11.20oz
<<Takato Ueda Welcome to Mutant Bikes | HOME | UNT BIKES FORK & HANDLEBAR 入荷>>
Comment
Comment Form
Trackback
| HOME |